Debit Card
Did you know that debit cards are more widely accepted than personal checks and are safer than carrying cash? You can use your debit card to pay for everyday purchases and have access to your accounts 24/7 at ATMs across the country. Contact us today to sign up for your debit card and to start enjoying these advantages: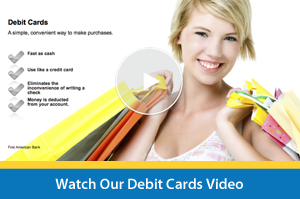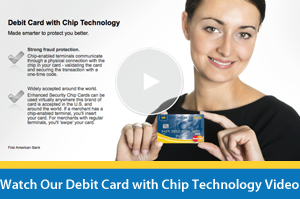 Our debit cards include Chip Card Technology.
No monthly service charges.
No fees when using a First American Bank or Privileged Status ATM.
Automated Teller Machines (ATMs) can be found nearly everywhere.
Checkout's quicker — no need for check approval or to show identification.
You can use your debit card to get cash back when you make a purchase at a store.
Lost or stolen Debit Card?
During business hours, immediately call your First American Bank location.
After hours, call Shazam at 1.800.383.8000 — then notify your First American Bank location the next business day.
Shazam Bolt$
Register your debit card for SHAZAM® BOLT$™ and take advantage of advanced security features to protect yourself from fraud. Download the app from your smart phone's app store by searching SHAZAM® BOLT$™, going to our homepage from your smart phone's web browser, or click Enroll Now below to sign up from your computer.
Shazam Bolt$ allows you to set alerts for:
Over a set amount threshold
Completed over the Internet or phone
Outside of the U.S.
Use Transaction Control to block or unblock a card without interfering with pending transactions
Download the app from your smart phone's app store by searching SHAZAM® BOLT$™, or click Enroll above to sign up from your computer today!
Traveling With Your Debit Card?
Printable wallet-size reminder of important steps to take.
If you plan to use your debit card while traveling, we recommend alerting your local First American banker prior to departure. This information does not mean that your debit card may not be blocked for security purposes. But, having that information available may help us if Shazam is unable to reach you and we must make a decision about your debit card.
Double check the telephone numbers on file at your First American Bank. We rely on accurate telephone information in the event either we or Shazam need to call you to verify transactions. If your telephone numbers are incorrect, and we cannot reach you, your card may be blocked for your protection. This can create difficulty, especially if you are far from home.
In the event your card is blocked for security purposes, either at home or away, simply call Shazam's fraud department's toll-free direct dial: 1-855-219-5399. If a questionable purchase should be flagged, they will be able to reactivate your card immediately upon receiving your verified authorization.
You may also use the Shazam number printed on the back of your debit card — but please remember to request the fraud department.
If you are calling from your cell phone from outside of the United States, please call 1-515-558-7608.
Should you prefer, during banking hours, you can also call your First American Bank to approve the transactions in question; we can contact Shazam for you to unblock your card.
Always carry an alternate payment method. We will do all in our power to help you when you run into payment difficulties, but having multiple options for payment at all times is a wise idea, especially when traveling.
Notice
You are leaving First American Bank's website
By accessing this link, you will be leaving the First American Bank website and entering in a website hosted by another party. First American Bank has approved this as a reliable third party site, but please be advised that you will no longer be under the protection of, or subject to, the privacy and security policies of First American Bank. First American Bank is not responsible for the third party site's information.
Please review the site's privacy policy, as well as their terms of use.