Payments & Disbursements
Control how and when cash moves out of your company's coffers. We'll help you track all the players, manage your accounts and time your payments.
ACH Services
Streamline payments and reduce transaction costs with electronic credits and debits. Services including direct deposit, direct debit, business-to-business transactions, and cash concentration and disbursement allow you to pay vendors, distribute payroll and collect dues and payments with the click of your mouse.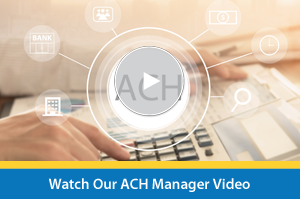 Positive Pay
First American Bank's Positive Pay Service is simple, fast and efficient. You provide First American Bank with your check issue information and each day the bank verifies the issued items against the item that was presented for payment. Exceptions are sent electronically through eCorp Navigator. You then review the images of the exceptions and indicate online whether the checks are to be paid or returned.
Exceptions are defined as the following:
Checks not included on the issue file
Checks with duplicate check numbers
Checks without check numbers
Checks with Payees that differ from issue file
Checks that the paid amount differs from the issued amount
Canceled checks
Checks exceeding a maximum dollar amount (if requested)
Stale dated checks