Commercial Online Banking
Commercial Online
eCorp Navigator is like having a branch of the bank in your own office 24/7. It allows you to take precise control over your day-to-day finances and access your banking information in real time. Whether you are a small business or a large corporation, these powerful tools will save you time, improve your cash flow and streamline your cash management procedures, all in a fully secure environment.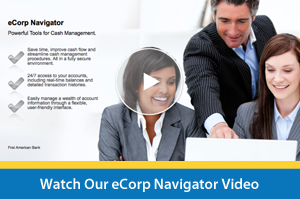 Sweep Accounts
Automate your daily cash management decisions. We'll monitor your account balances daily and transfer funds where they'll do the most good.
Target Balance Accounts
With Zero Balance Accounts or Target Balance Accounts in place, all of the company's funds are concentrated into one operating account. Disbursements are made from subsidiary accounts, which always maintain a predetermined balance.
Notice
You are leaving First American Bank's website
By accessing this link, you will be leaving the First American Bank website and entering in a website hosted by another party. First American Bank has approved this as a reliable third party site, but please be advised that you will no longer be under the protection of, or subject to, the privacy and security policies of First American Bank. First American Bank is not responsible for the third party site's information.
Please review the site's privacy policy, as well as their terms of use.